Published on: Saturday, 31 January 2015
// sports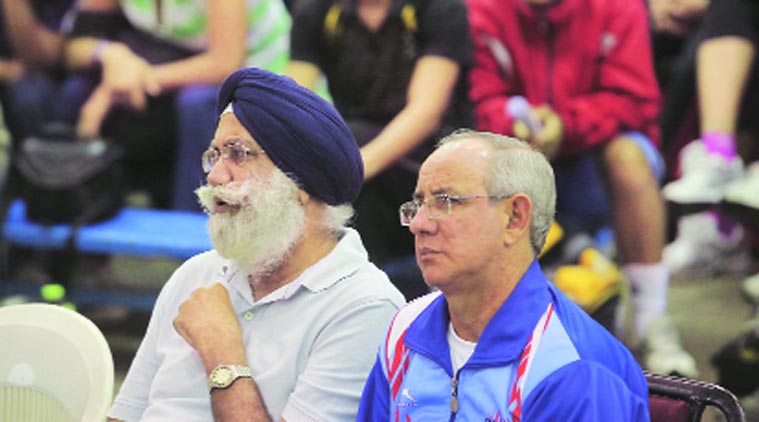 For most Indian boxing fans, images of Sandhu and Fernandez standing together outside the ring and egging on the boxers.
It's perhaps the longest association between two coaches in Indian boxing. National chief coach Gurbax Singh Sandhu's partnership with BI Fernandez dates back to 1993 when the Cuban joined the national camp. A year earlier Sandhu was appointed the national coach. For most Indian boxing fans, images of Sandhu and Fernandez standing together outside the ring and egging on the boxers, whether it be 1998 Asian Games champion Dingko Singh or Beijing Olympics bronze medallist Vijender Singh, are moments to cherish. In the aftermath of AIBA's ban on the Cuban and his uncertain future, Sandhu spoke about Fernandez the coach and their long-time association.
On his first meeting with Fernandez
I was made the chief coach in 1992 and I met him for the first time in 1993. At that time there were three foreign coaches. There were two Russians — Suprov and Valkov — apart from Fernandez. He went with us to the 1994 Asian Games and both of us got together well. I told the Sports Ministry that I wanted him as the foreign coach. He then came back in 1998 and since then the two of us have worked together. We have travelled abroad on many tours and he has been a constant support. He has seen boxers like Dingko Singh, Mohammed Ali Qamar, Akhil Kumar and Vijender Singh apart from youngsters like Shiva Thapa and Devendro Singh from close.
On their working partnership
We have always planned the coaching sessions together. We had some coaches in between his travels to Cuba, but I have been most comfortable with him. We made certain not to interfere in each other's affairs once we were away from the ring. His strength lies in hard work and he understands the boxers. And the boxers too are comfortable with him. And with time he has also understood the Indian system. Sometimes we say that he has become more Indian than us.
On Cuban's coaching methods
Most of the boxers he trains are comfortable with him. He would start slowly and then make them work at his own pace during training sessions. He comes from a top boxing nation and understands their work ethics too. Earlier, we used to visit Cuba every year and he would help us a lot. He is an emotional coach. Once, one of our campers lost in the nationals in Delhi and he got very angry. He started shouting, but later regretted his action. But all this came due to his love for the boxers.